29 Set

Davide Lombardi Sound Engineer of the Year- Kate Bush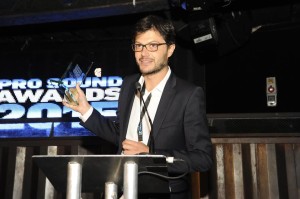 David Lombardi was awarded last Thursday (September 24 ) with the title of " Engineer of the Year 2015″ during the ceremony of Pro Sound Awards , in its third year promoted by the famous publication Pro Sound News Europe .
Davide was nominated for his work as FOH Sound Engineer on the celebrated comeback concert series " Kate Bush – Before the Dawn " , 22 dates in residence at the Hammersmith Apollo in London , between August 26 and October 1, 2014 . The award was assigned by the vote of a jury of more than 50 internationally renowned professionals from around the audio industry landscape.
Davide would like to take this opportunity to thank everybody involved in what he reckons to be the masterpiece of contemporary music.