Kate Bush- FOH Sound Engineer/ System Engineer Before The Dawn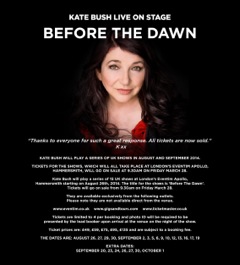 Kate Bush first came to note in 1978 when, at the age of 19, she topped the UK Singles Chart for four weeks with her debut single, "Withering Heights". She is the first British solo female artist to top the UK album charts and the first female artist ever to enter the album chart at number-one, as well as the first (and to date, only) female artist to have top five albums in the UK charts in five successive decades. In March 2014, Bush announced her first live concerts in several decades: a 22-night residency called Before The Dawn in London from 26 August – 1 October 2014 at the Hammersmith Apollo. Tickets sold out in 15 minutes. Davide Lombardi was proud to be mixing the legendary Kate Bush..  http://www.katebush.com/news/dawn

Trackback dal tuo sito.